Phew, have you had a look at the date recently? I just did, and like every year, I noticed that this one is nearly over again. I could start all that "Jeez, time's too short" whining again, but, although that's true, it would probably be inappropriate because so much has happened in so little time.

The following is my small personal summary of events that made this advent season a very special one.
When Open Source Matters
… and it really did. This December, many changes, improvements, and additions were made to the H'uru CWE client for URU. Of course, this was sped up by an awesome idea that was and still is filling us with joy: the "Open Source Christmas Party Hop".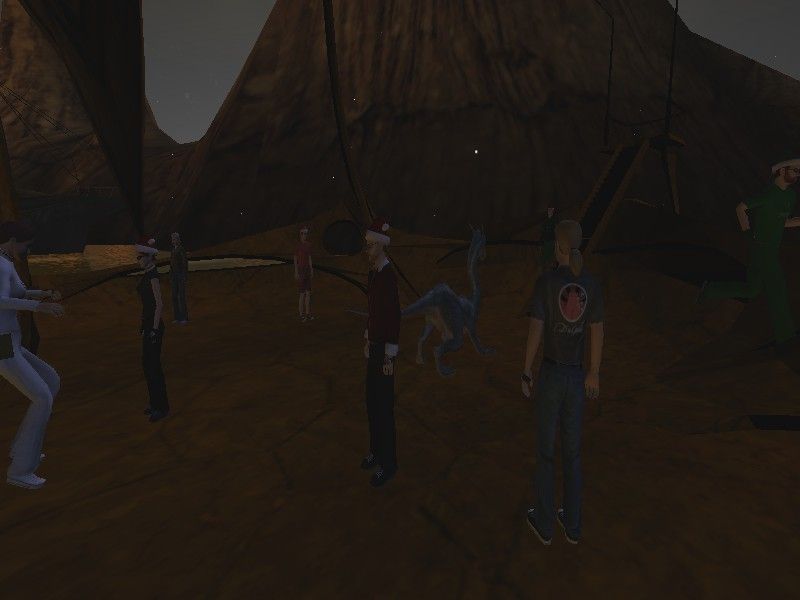 It started in late November when Hoikas asked me what I thought about that special kind of event. Pretty quickly the whole idea developed - one party every Saturday and each one on a different Open Source shard. After the dates were chosen - The Open Cave would be Dec 14th, Myst Online: URU Live Again on Dec 21st, and Gehn the 28th - Filtik and I started preparing the TOC part of the event and everyone else involved was working on making announcements, planning livestreams or preparing the following parties.
It did not take a long time, and soon, it was the day of the first party. On TOC, we had a lot of fun, with a peak attendance of more than 30 people. Exploring special areas of the City of Dimensions as well as TOC's many mods was very exciting. Next in line was the MOULa party, which had over 45 visitors and was hosted by the Guild of Messengers.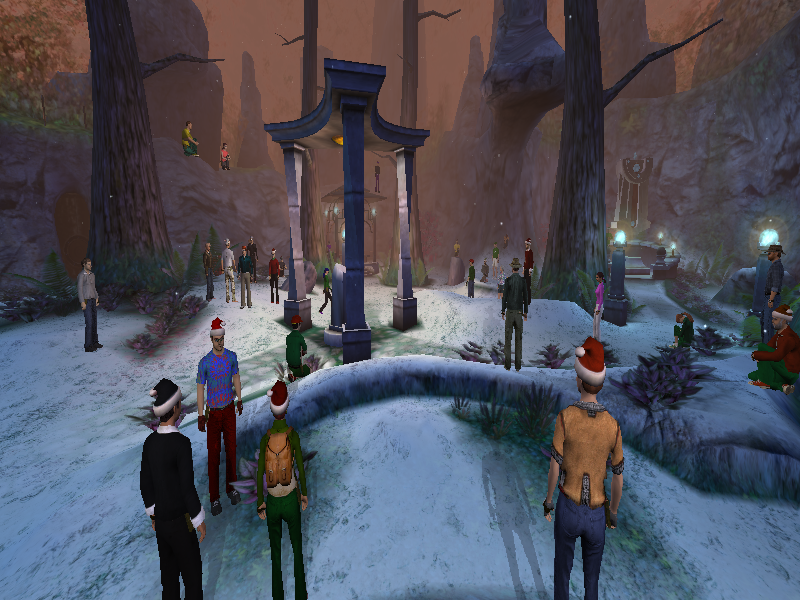 It was a bit less spectacular at first, but it soon revealed another highlight. Trekluver, who had already done the deejaying for TOC's party, had written and edited a special wrapper for this livestream. In a very short period of time, he had several voice actors (Hoikas, Ahlisendar, Doobes, himself and me) recording lines for this very special audio play. It was so much fun to be a part of it and listen to the final cut at the party. I really recommend you visit the Gehn party next saturday where it will be played again.
Welcome to Devland
It was not really a big thing, and as far as I know, not many people were watching, but on December 23, Hoikas initiated a live video stream showing the update process for Gehn 18. Via Google Hangout-On-Air, everyone could watch how the general process of updating an open source shard works. Many commits of code that were made in the last few weeks were merged in order to be available on Gehn at the party. Unfortunately, the livestream ended up taking three hours because an issue with the new patcher needed to be fixed. Still, it was an interesting experience for me, as I was part of the Hangout and I could use some more experience in talking in English, and for everyone else who wanted to see how admins do their work - especially if stuff doesn't work and, when debugging, people can watch over their shoulders on YouTube. :p
Anyway, it was worth the effort. Gehn 18 brought you a huge feature list that you might like very much, I think.
Merry Geekmas
Christmas trees are cool. Here in Germany, my parents and I have a special tradition. Every year, someone else is responsible for decorating the Christmas tree. This year, it was my turn again, and I felt like I had to come up with something extraordinary. My mother did a cookie tree a few years ago and that was pretty cool (mhm… and tasty). As someone who is also studying computer science, an idea settled in my mind very soon: It's gotta be a code tree!
Yes, you have read correctly: I did a christmas tree that is full of funny code snippets, console commands, xkcd comics and lines from wikipedia. I took a few photos which you can view here.
Christmas itself was mostly like it used to be. As a trumpet player in our local church's trombone choir, I was in church a lot, but on Christmas Eve, which is when the presents are exchanged in Germany, I had a great night within my family circle. In order to make everything more exciting, we marked all of the presents with bingo numbers. Then, we threw a die and on a hit, a number was drawn and the specific present was handed over to the destined person.
… and a Happy New Year
Unfortunately, I won't be able to attend the Gehn Shard party next Saturday. Nevertheless, I hope you can make it. I'm sure it will be worth your while.
Finally, I hope everyone of you had a
Merry Christmas
and I wish you all a
Happy New Year 2014.
~Mystler